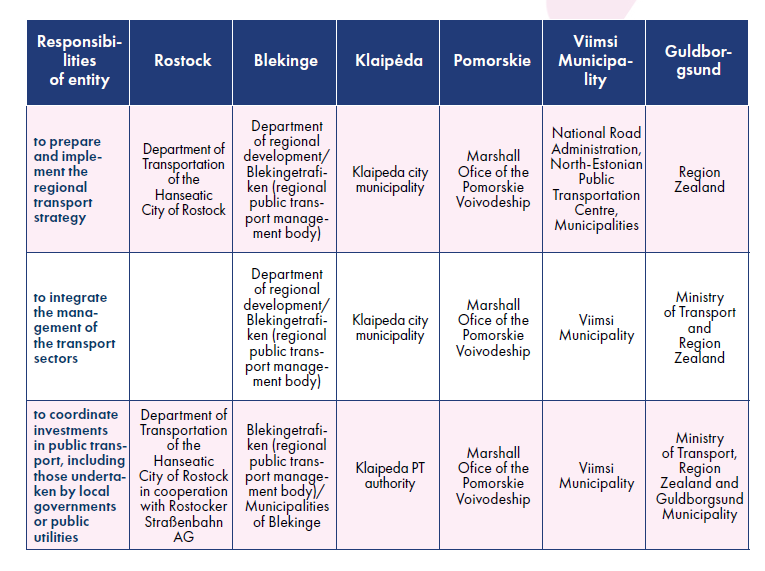 PUBLIC TRANSPORT ORGANIZATION AND MANAGEMENT SYSTEMS
DIFFERENCES AND SIMILARITIES OF PUBLIC TRANSPORT ORGANIZATION AND MANAGEMENT SYSTEMS
To make planning, management and organization of public transport effective it is necessary to assign particular tasks to entities responsible for them. In the analysed regions the responsibility for public transport operation is divided between local governments, public transport authorities and specialized departments in city halls and municipal offices.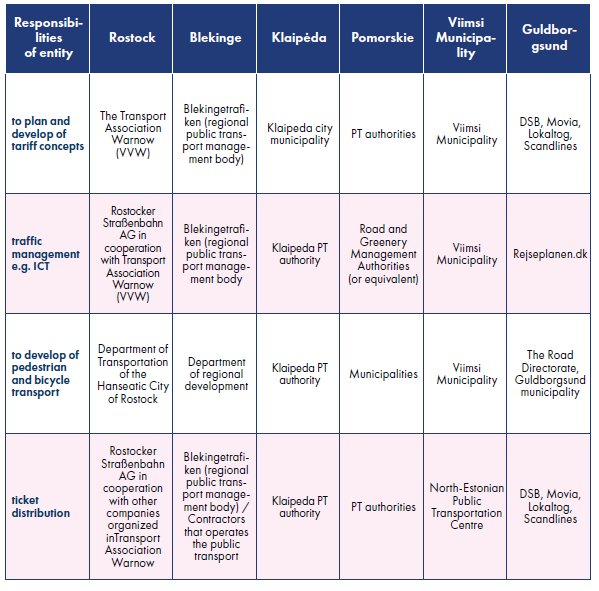 FINANCING PUBLIC TRANSPORT SERVICES
In the majority of European countries public transport services are provided in two ways, as public and commercial services. The characteristic feature of public transport (in particular urban transport) provided as public services in the majority of countries worldwide, including EU member states, is its unprofitability. It means that the public transport operational costs are higher than income from ticket sales. Therefore, the efficient operation of public transport (as public services) requires its financing from public funds. Consequently, the financing of public transport is divided between people using the service (through purchase of tickets), and non-users, people usually travelling by other modes of transport (mainly by private cars). This is because not only public transport users but the entire population benefit from public transport services (reduced congestion, cleaner air, lower level of nose, etc.). Subsidies for public transport affect the price and scope of provided services. Therefore, thanks to public funds public transport services can be rendered for the public at a lower price than it would result from economic calculation. Public transport services can also be rendered in areas and time periods of lower demand (as a result their availability and quality is higher).
In the Pomorskie the funding structure of public transport services differs depending on the operator (area where public transport services are provided). On average, the income from ticket sales and additional charges incurred by passengers, as well as fines (resulting mainly from travelling without a valid ticket) covers ca. 40-50% of expenses related to public transport operation. Other expenses are covered from budget subsidies of local governments where public transport is managed. For example, at ZKM network in Gdynia (operating within: Gdynia, Rumia, Sopot, municipalities: Kosakowo, Szemud, Wejherowo, Zukowo) the income covers ca. 44% of expenses
(other 56% is covered by subsidies). Whereas, at ZTM network in Gdansk (Gdansk, Sopot, Pruszcz Gdanski, municipalities: Kolbudy Pruszcz Gdanski, Zukowo) the income covers ca. 47% of expenses (other 53% is covered by subsidies). The majority of conducted analyses prove that the scal of necessary budget subsidies from local governments in the Pomorskie Voivodeship will increase. In Blekinge region the income from ticket sales cover ca. 50% of public transport operational costs.

PUBLIC TRANSPORT ORGANIZATION AND MANAGEMENT SYSTEMS
Other 50% is covered from subsidies from five municipalities where public transport services are provided and the council of Blekinge.
In all other regions under analysis public transport also receives subsidies from public funds. In the case of Hanseatic City of Rostock subsidies for public transport come from Hanseatic City of Rostock, the administrative district and Mecklenburg-Vorpommern state. Within Viimsi Municipality subsidies come from municipality budget. Whereas in Klaipeda from Klaipeda City municipality, Klaipeda district municipa lity and Kretinga district municipality. In the region of Guldborgsund public transport is subsidised by the Municipality of Guldborgsund. Special subsidies are provided for public transport services rendered for people with disabilities and school bus services.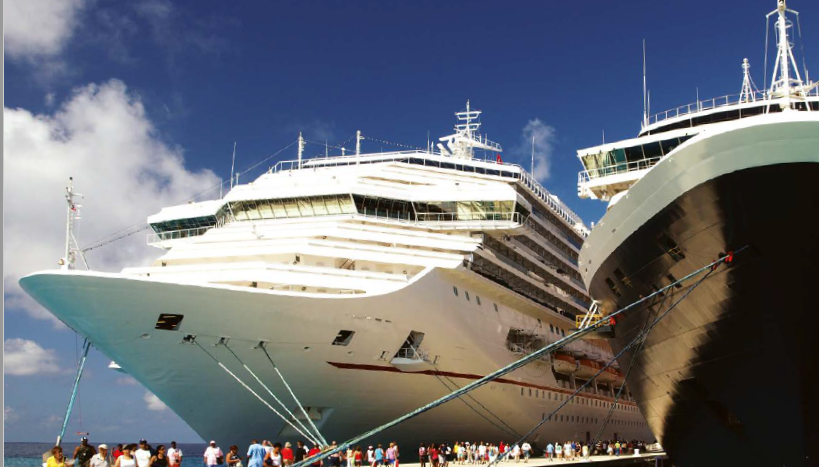 GROUPS ENTITLED TO FREE PUBLIC TRANSPORT TRAVELS
ROSTOCK
In Rostock there is no fare-free urban transport. Discounts on ticket prices are available for children and teenagers up to 15 years of age and groups travelling together in the number of max. 5 people (travelling under group ticket).
In Rostock there is also Mobli60 ticket. It provides seniors (people aged over 60) with a possibility to use public transport services at preferential terms. Discounts are also available for students and employees of companies using JobTicket.
BLEKINGE
In Sweden fare-free urban transport was introduced e.g. in the cities of Avesta, Hallstahammar, Jokkmokk, Kiruna, Kölsillre, Ockelbo and Övertorneå; however, it was not introduced within the region of Blekinge. In the offer there are special tickets (in the form of cards) for schools, companies and tourists. Children up to 6 travels free with an adult in Blekinge. Children and young people from 7 to 19 years old travels on discount. From 2018 all students and seniors (65+ years old) gets 25% discount. People traveling with a child have to buy tickets but transport of a bicycle or a dog by train is free of charge.
KLAIPEDA
In Klaipeda fare-free public transport has neither been introduced nor are any works performed to introduce such services. Under national law there are two types of discounts for tickets, 50% or 80%. for several social groups. In 2018 as a pilot action – free public transport during Sea festival (27-29 July), to reduce usage of private car. Operational costs was covered by city budget.
POMORSKIE REGION
In the Pomorskie fare-free public transport is available for school children and students up to 20 years of age in Gdynia, Sopot, Rumia, Zukowo, Kosakowo and Szemud (under valid school ID) and up to 24 years of age in Gdansk (under valid school ID and verified Gdansk City Card). Free transport services are available for the young only within their place of residence. In Pomorskie also Koscierzyna and Pruszcz Gdanski (only one bus line operating in the city) have fare-free public transport. Koscierzyna have fare-free public transport for everyone since 2015 (as the first city in Poland).
VIIMSI MUNICIPALITY
In 2013, in Tallinn referendum was held on fare-free public transport services. As many as 75% of inhabitants voted in favour so Tallinn became the first European capital to provide fare-free urban transport services. The inhabitants of Tallinn, who have "green card", are exempt from transport fees. From July 2018, 11 of Estonia's 15 counties introduced free public transport on county buses. At the moment Harju County including Viimsi Municipality have chosen to implement free bus transport only for students and pensioners over age 63.
GULDBORGSUND
Today in Guldborgsund Municipality there is no fare-free urban transport. Discounts are available for seniors and the young. However, a new test route in a rural area has been established in close dialogue with local citizens in order to meet specific local needs. As part of the test the route is free
of charge. The use of CHECK IN, CHECK OUT system in buses and trains makes it possible to calculate the cost of travel very precisely. Thanks to such solution a passenger using e-ticket (compared to passenger with a single journey ticket) incurs costs lower by ca. 40% in case of short trips and 75% in case of longer trips.