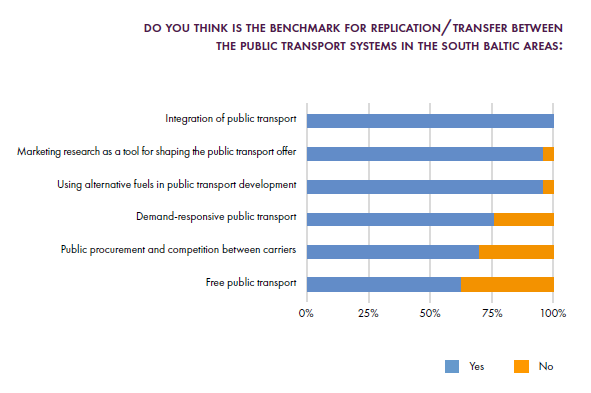 RESULTS OF THE AUDITORIUM SURVEY CONDUCTED DURING THE SEMINAR "BENCHMARKS FOR THE CURRENT PUBLIC TRANSPORT SYSTEMS ' CONCLUSIONS"
All respondents taking part in the survey agreed that the solution which should be implemented in all partner regions within the project involves further integration of public transport. However, it was emphasized that the integration of public transport should occur not only within one means of transport (for example only within bus transport), but also in the whole public transport system. 95% of respondents indicated that in the regions the solutions related to marketing research should be replicated as an instrument for shaping public transport offer. 95% of respondents also specified that alternative fuels should be used in public transport in all regions. Whereby, some of the respondents underlined that from among all available technologies related to city buses alternative power supply, the decision makers should choose electric buses since they constitute the future of public transport.
Transport on demand was considered worth replicating between the regions by 75% of respondents.

However, it was indicated that:
• Transport on demand should be developed in rural areas, of low population density and low availability of transport.
• Transport on demand should operate outside the peak hours.
• Transport on demand generates too high costs per passenger-kilometre.
• The introduction of transport on demand should be preceded by economic analyses not to waste public resources.
• The services of transport on demand may contribute to reducing transport exclusion in some areas without regular public transport.
The least, i.e. 63% of respondents, after the presentations and discussion panels indicated that it would be worth transferring solutions related to providing and organizing free public transport services within the regions. Furthermore, it was observed that the introduction of free public transport should be preceded by regional cost-benefit analyses, and that thanks to free-of-charge public transport services there was no need to incur high costs of production, distribution and control of tickets as well as high costs of the recovery of fines.