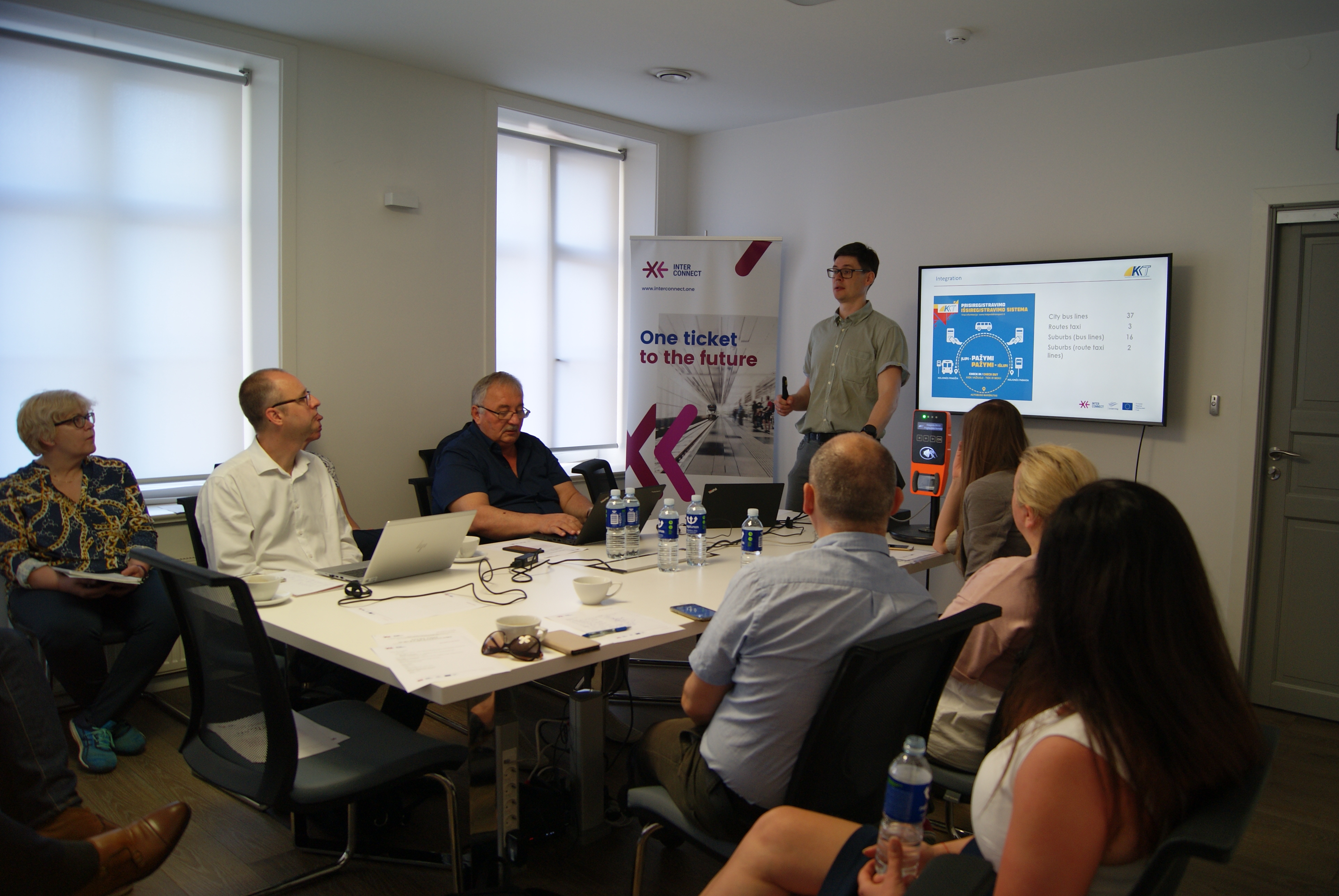 Study visit in Klaipeda
The most recent study visit within the framework of the Interconnect project took place in Klaipeda, Lithuania. On 21st May, the project partners from Germany, Poland, Sweden, Estonia and Lithuania met at the "Klaipedos keleivinis transportas" headquarters in order to analyze solutions used in public transport in this region of Lithuania.
The management of the Klaipeda city transport introduced a number of innovative solutions in public transport earlier this year including a new ticket system and management system of the Estonian company Ridango.
The company has provided equipment, validators and a central management system that allows you to perform a lot of activities related to traveling, planning of trips and public transport management in an electronic, online manner. Ridango's technology is used in 215 buses of Klaipeda where over 400 validators have been installed.
Travellers on routes Klaipeda – Palanga and Klaipeda – Kretinga were the first to test the new system which was introduced on 2nd April 2018. New equipment has been gradually added to the route network and the entire public transport in Klaipeda started to use this new ticketing system from autumn 2018. The new account-based system makes the drivers' work significantly easier and offers passengers more convenient ways to purchase and validate their tickets.
During the study visit, all participants learned how the new, modern solution works. It allows passengers to pay for their trips using mobile phone, bank cards (year 2020), special QR codes and offers a much greater variety of tickets than those offered to passengers in Klaipeda earlier.
There was also an opportunity to test the new system. For example, the Polish group representing the region of Pomerania benefited from an interesting solution, which was the inclusion of special minibuses in the group of public transport fleet. These are vehicles that accommodate about 22-25 people. They look more like a car than a bus, but they operate on a specified schedule and regular city tickets.
The participants also had the opportunity to look at one of the interchanges, where a pilot solution for storing bicycles was implemented. The solution consists of a system of special boxes which can be opened and closed through a smartphone application.
Participants of the study visit also visited the passenger service point and had the opportunity to look at how the city transport monitoring center works together with the incident and failure reporting center.
The study visit in Klaipeda was the 5th and final of the planned visits in the framework of the Interconnect project. At the end of this work package, there will be a detailed report summarizing the collected experience. Furthermore, all the solutions applied in particular regions will be analyzed and presented!
Further information can be found on http://innobaltica.pl/