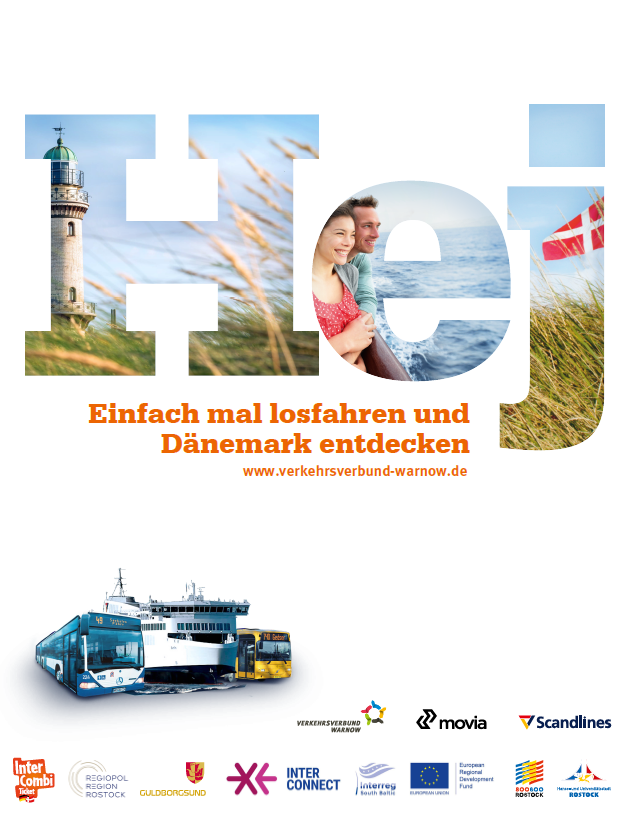 Just drive off and discover Denmark
Intercombi ticket for a quick visit to neighbors
The Intercombi-Ticket aims to further promote mobility between German-Danish neighbours. The European Union promotes cross-border integration between Rostock and the neighbouring Danish municipality Guldborgsund with attractive passenger transport services. According to Andrea Doliwa of Verkehrsverbund Warnow (VVW), "This ticket combines the individually purchased tickets of cooperation partners VVW, Scandlines and Movia."
The Intercombi-Ticket makes the small cruise with the new ferries across the Baltic even more attractive", explains Andrea Doliwa; the Intercombi ticket is available as a single ticket and a day ticket and can be purchased online".
The German-Danish project team attaches great importance to practical experience by residents and tourists with the new attractive passenger transport services. The focus is therefore on increasing the level of awareness and utilization of the Intercombi-Ticket. For the summer season of 2019, a package of cross-border-actions was developed to make the neighbourhood between twin cities even livelier and to invite visitors to visit the neighbouring region and meet people.
The Hanseatic and University City of Rostock had already in the Middle Ages a catchment area reaching far into the Baltic region. This potential is still used today; therefore Regiopole Rostock and the neighbouring Danish municipality of Guldborgsund are further expanding their functional interdependence. The existing town twinning is thereby filled with life. The basis for the 2019 campaign to stimulate the cross-border neighbourhood is the transport infrastructure between Rostock and Guldborgsund, which has been completely modernized in recent years. Not only freight transport was considered, but at the same time more emphasis was placed on multimodal passenger transport.
Traveling to Guldborgsund and Rostock has become pleasant and easy to plan even without a car. The attractive travel conditions give now reason to invite residents, and guests of the Regiopolregion Rostock to Denmark. In return, Guldborgsund´s residents and tourists visit the Regiopolregion Rostock and experience so practically, how easy it is to visit without a car or coach Rostock and the Regiopolregion. The European Union, federal and state governments, Rostock and Guldborgsund, as well as the private ferry company Scandlines have invested millions in new terminals, new ferries, new road connections, harmonized timetables and time-lapse information systems in recent years.
Now, with the help of the Interreg-project "Interconnect" public awareness of the attractive passenger transport service between Rostock and Guldborgsund with the port of Gedser shell be increased. Ferry and public transport are harmonized both on Rostock and on the Danish side; the connection is in the international rail information system integrated as well as in the information systems of Movia and RSAG / VVW.
www.rathaus.rostock.de/sixcms/detail.php?id=274383