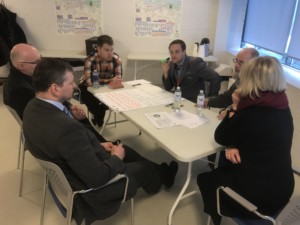 The workshop in Klaipeda within the INTERCONNECT project about better cross-border and regional public transport was facilitated by BTH PhD student Varvara Nikulina, supported by research colleagues Henrik Ny and Sven Borén in the SustainTrans research group.
The team had great support from the hosting team at Klaipeda Public Transport authority, lead by Andrius Samuilovas. The workshop took place in Culture Factory in Klaipeda and was different to the others in Gdynia and Karlskrona as there was simultaneous translation via headphones to both Lithuanian and English, and that the table leaders were from the Klaipeda Public Transport authority and could thereby contribute to the discussions with expertise within the topic.
There where less participants than in the other two workshops, but those who were  present represented a great mix of public transport stakeholder, and their knowledge lead to fruitful discussions at each of the three tables in the afternoon. The format of the workshop was the same as the previous, starting with a nice introduction by the vice Mayor of Klaipeda Arturas Sulcas.
The participants then presented their expectations of the day and burning issues regarding regional and cross-border public transport.  After a presentation of Strategic Sustainable Development related to public transport by Henrik Ny, the participants brainstormed and concluded upon a visioning statement about public transport for year 2040.
After lunch, the participants discussed and brainstormed current pros and cons regarding public transport and sustainability effects and then solutions towards the vision.
The BTH team are extremely grateful for the help of table leaders and the hosting by Klaipeda public transport. The next task is to write a summary report and then use the results to contribute to the list of solutions towards sustainability and high quality of regional and cross-border solutions in the South Baltic Region, and later this year start the development of the stakeholder collaboration model.